Eye care specialists encourage patients to undergo regular comprehensive eye exams. These medical eye exams are totally different from the routine vision exams that you might undergo at your annual well check with your family doctor. To give you a better idea of how these two types of eye exams differ from each other, Spectrum Eye Care breaks down what typically happens in a comprehensive medical eye exam.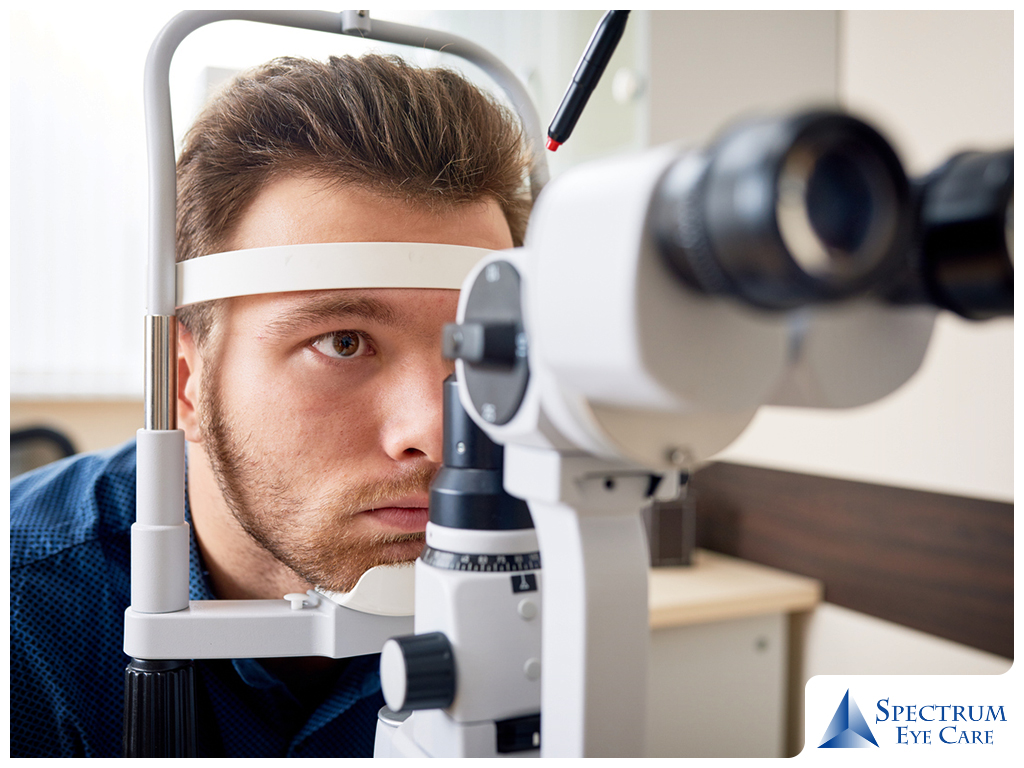 What Happens in an Eye Exam
Comprehensive eye exams are more extensive and thus take more time than routine eye checks. An ophthalmic assistant or technician will begin by asking about your personal and family medical history as well as symptoms you're currently experiencing. They will then perform a series of basic tests like checking your intraocular pressure, eye muscle function and eye dryness among other things.
Next, they'll perform a refractometry test to determine the right eyeglass or contact lens prescription for you. Depending on the eye conditions you might have, the eye doctor may authorize additional tests. All in all, the initial phase of a comprehensive eye exam takes about 20-45 minutes. Once it's done, an optician will review the results with you and assist you in choosing frames for your new eyeglasses if necessary.
Your optician may administer dilating drops, which typically take effect in around 15 minutes. Afterward, you'll be called back for the final stage of your eye exam. This is when your doctor will review the collected data and double-check your prescription. They will also take a look into the surface of your eye, the lens and the retina to check for cataracts and other potential retinal problems.
Why Eye Exams Are Important
A comprehensive eye exam provides a more accurate and complete assessment of your eye health than a simple vision screening. Spectrum Eye Care is deeply committed to providing quality eye care and superior customer service. Our team of experienced optometrists uses only proven methods and progressive procedures to ensure the best care for your vision.
Call us at (704) 543 9000 (South Charlotte), (704) 334 4444 (Uptown Charlotte) or (704) 817 4600 (Mooresville – Langtree). You can also fill out our contact form to schedule an appointment.