Contact lenses are a convenient alternative to eyeglasses. There are many types of contact lenses, and choosing the right pair for your needs will require consultation with your eye doctor. The decision depends on several factors such as how well you tolerate wearing them, the material used and proper eye care.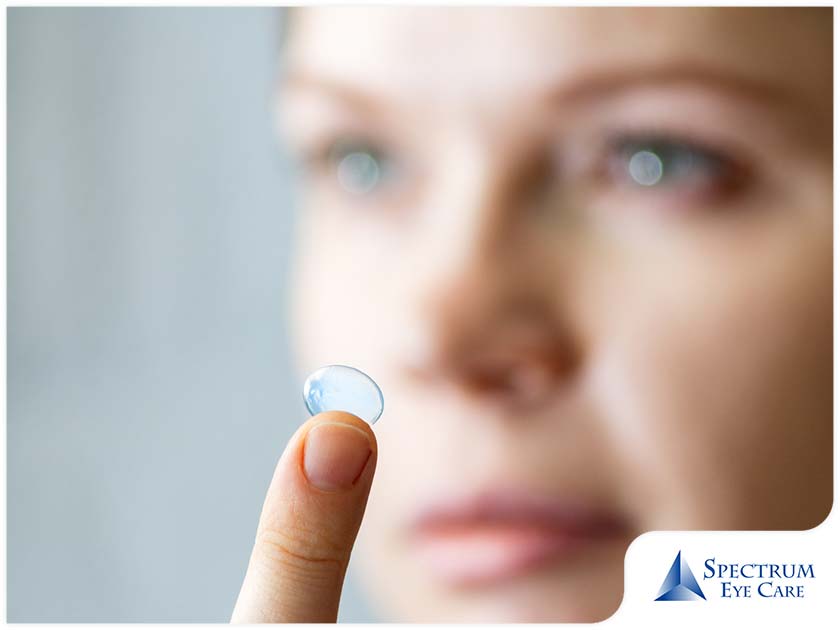 If you're not sure which type of contact lenses to choose, consider getting a professional eye exam from Spectrum Eye Care. Here's what you'll need to consider:
Sharpness of Vision
If you're not satisfied with the clarity of your eyesight when wearing soft contacts, then you might consider trying rigid gas permeable contact lenses. Also called RGP or GP lenses, they require a bit of an adjustment period, but they often provide sharper vision than soft contact lenses, especially if you have astigmatism. If you want sharper vision, consider switching to RGP lenses.
How Often You'll Wear the Contacts
Soft contact lenses are popular because they're comfortable to wear. If you plan to wear your contact lenses every day, this might be a good choice for you as they tend to be more comfortable than RGP lenses. Your optometrist can help you determine whether soft contact lenses are the right choice.
Allergens and Dry Eyes
Conditions like eye allergies and dry eye syndrome can make contacts uncomfortable to wear. If you suffer from these conditions, make sure to discuss it with your eye doctor during your eye exam. We may suggest trying daily disposable contacts to help reduce contact lens-related allergy symptoms. Whether you need new contact lenses or Lasik eye surgery, don't hesitate to turn to Spectrum Eye Care. Call us at (704) 334-4444 or fill out our convenient online request form to get started. Talk to us today!