When you have eye issues such as dryness and irritation, you'll naturally think of using eye drops to treat them. They're readily available and provide a short-term solution to some eye problems. However, using it frequently may cause more problems later on. For instance, if you suddenly stopped using them, you may feel the original symptoms again, sometimes even stronger than before. This drives you to keep using eye drops until you seem to be completely dependent on them.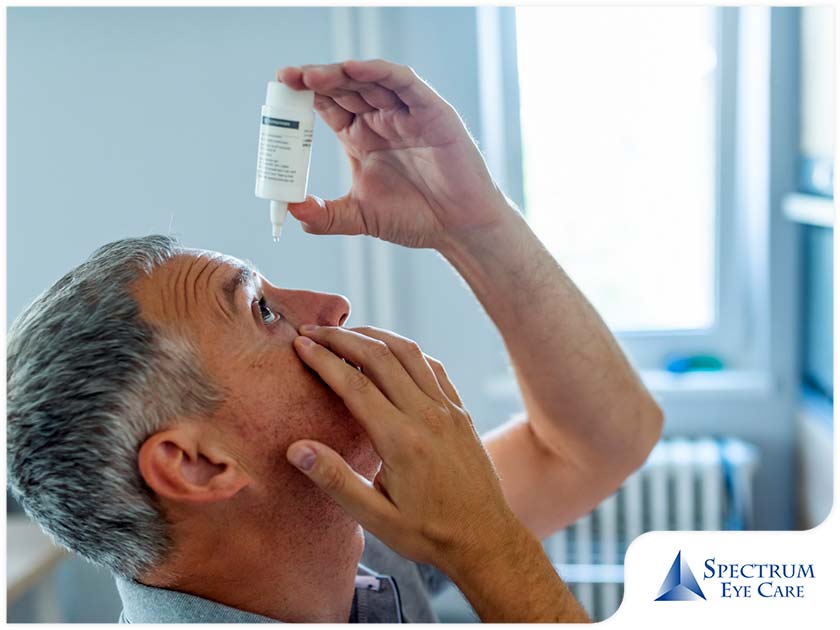 To understand why you shouldn't overuse eye drops, here's what our resident eye exam doctor at Spectrum Eye Care has to say.
Different Eye Drops Treat Different Ailments
There are some eye drops that work as decongestants that contain vasoconstrictors such as tetrahydrozoline and naphazoline. These constrict blood flow to the outer blood vessels of the white part of the eye (sclera), which makes the eyes look less red.
Other eye drops are used to maintain moisture. They're available with or without preservatives and often contain electrolytes or thickening agents. Others are made from a combination of antihistamines and decongestants, which are used to treat ocular allergy symptoms like itching, watery eyes, redness and puffiness.
The Risks of Frequently Using Eye Drops
Our resident optometrist doesn't recommend frequent usage of eye drops with vasoconstrictors, as it decreases the blood flow from your eye and prevents oxygen and nutrients from getting to your sclera. When you suddenly stop using these eye drops, eye rebounding can occur. This means your sclera may become redder and enlarged due to the blood vessels delivering the needed oxygen and nutrients to your deprived eyes without being inhibited by the vasoconstrictors.
If you're constantly using eye drops for artificial tears, it can affect the natural moisturizers that protect your eye. When this happens, the eye drops will wash away your natural tears. Remember, eye drops only provide a temporary solution, so if you find yourself using them beyond the daily recommended usage because of your recurring eye problems, then it's best to visit a trusted eye care center for an ocular health exam.
When you need a professional eye care doctor for Lasik eye surgery, don't hesitate to turn to Spectrum Eye Care and call (704) 817-4600. You can also fill out our convenient online request form to get started, so schedule an appointment with us today!